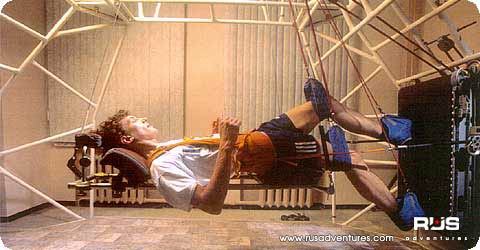 WASHINGTON -- NASA and 14 international space agencies are challenging students to complete a nutrition and fitness program known as "Mission X: Train Like an Astronaut." Approximately 3,700 students from more than 25 different cities worldwide are participating in this six-week pilot project.
NASA's Human Research Program is sponsoring the U.S. component of the international challenge that began Tuesday. Teams of students between eight and 12 years old will learn principles of healthy eating, exercise and compete for points by finishing training modules. Students also will practice scientific reasoning and teamwork while participating in hands-on training that targets strength, endurance, coordination, balance and spatial awareness. The exercises will involve the same types of skills astronauts learn during training for spaceflights.
"A part of the human space exploration mission is to inspire our youth to stay in school and master professions in the sciences and engineering fields to carry on this important work well into the 21st century," said Charles Lloyd, NASA's Human Research Program Education and Outreach Project manager. "We believe this starts with our youth in elementary school. We hope this international fitness challenge will assist them with that lifelong endeavor."
Mission X challenges students to be more physically active; increases awareness of the importance of lifelong health and conditioning; teaches students how fitness plays a vital role in human performance for exploration; and inspires and motivates students to pursue careers in science, technology, engineering and mathematics.
Full Press Release